New Year New Career!

Blacktax has a number of opportunities for anyone looking to start a new business or move their existing operation from another firm. If you require more information do not hesitate to call and speak to Graham or Ian. We look forward to hearing from you.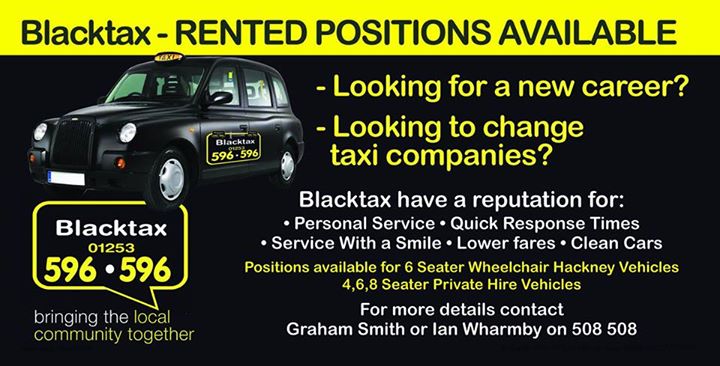 Work the shifts to suit your lifestyle.
Blacktax Offers three Fantastic opportunities to suit your lifestyle and requirements.
Truly be your own Boss and own a share of the company. You get to vote on how the company is run. Limited availability.
Take on a rental position with us, no strings attached.
We have opportunities for drivers, both full time or part time. Are you in a full time job already but looking to supplement your income. Well being a taxi driver is a fantastic way to earn extra cash on a part-time basis.
Blacktax offers the freedom you need. You work the times and shifts that suit you.
Contact us as soon as possible to discuss the best option for you.
Tel 01253 596596. And ask to speak to a director.