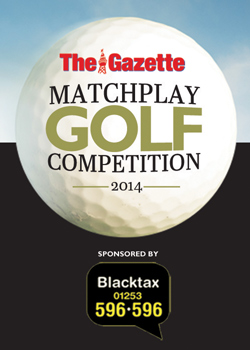 The Gazette is delighted to welcome Blacktax Taxis as sponsor for the fifth year running and we are hugely grateful to them for their continued support.
The tournament is open to local male amateur golfers aged 17 or over who are members, with a certified and active handicap, at one of the following clubs:
Knott End, Fleetwood, Staining, Poulton, North Shore, Blackpool Park, Herons Reach, St Annes Old Links, Lytham Green Drive, Fairhaven and Royal Lytham.
The handicap again will be difference for the tournament.
The competition consists of five separate rounds which are played on local courses.
The quarter finals will take place at a prestigious neutral golf club and the Semi Finals and Grand Final will be played on the fantastic Sir Henry Cotton championship course at the 5 star Penina Golf Resort in Portugal, cited by Darren Clarke as his favourite course on The Algarve!
If you are lucky enough to reach this stage in the competition you will be staying in the superb 5 star Penina Golf Resort Hotel for 3 nights dinner, bed and breakfast from 25th to 28th September 2014, all courtesy of Blacktax Taxis.
HOW TO ENTER
To enter the tournament please either find an entry form in The Evening Gazette, or
Alternatively you can enter by calling The Gazette golf hotline on 01253 361893/361709.
The cost to enter the competition is £10.
However, you will be reimbursed in the form of £10 worth of taxi voucher from Blacktax taxis.
Places are limited so don't delay.
Full rules and conditions are available in the Classified Section and on www.blackpoolgazette.co.uk
Thankyou to all of the golf clubs that have kindly agreed to waive green fees for the tournament.