It was only fitting that the highest-quality golf was reserved for the final in Portugal as The Gazette Matchplay 2018 was won by Chris Boyes of Fleetwood Golf Club.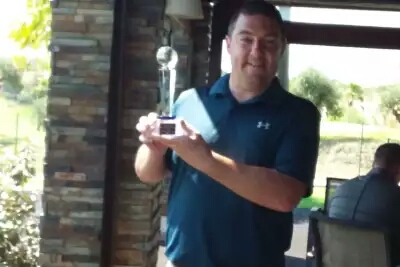 But the 30-year-old six-handicapper couldn't have been pushed harder to complete his hat-trick of Gazette titles than he was by two St Annes Old Links players on the Algarve.
Chris Nay brought the best out of the champion in an edge-of-your-seat final, which Boyes won 2 and 1 at the spectacular Vale de Pinta course, 24 hours after after clinching his semi-final on an extra hole after Mark Townsend's dramatic fightback.
This was a triumph for patience as well as consistency: Boyes won none of the final's first 14 holes, all but one of which were halved, then reeled off three in succession to close out a match which Nay seemed destined to take to the wire after beating Steve Heyes 5 and 4 in the other semi.
Boyes parred 14 of the 17 completed holes and birdied another to finish just two over-par on a top-quality course which hosts final qualifying for the European Seniors Tour each year.
All four players are enjoying four days based at the luxurious Pestano Dom Joao II hotel in the paradise resort of Alvor. They played three different courses, with all accommodation, travel and golf funded by Blackpool taxi firm Blacktax, who The Gazette is proud to have as tournament sponsors for the 10th successive year.
Our champion of 2010 and 2012, Boyes was the losing finalist last year and was determined not to experience that feeling again.
"What a great week," he said. "I've had two really close matches – Mark and Chris both played excellently, which is what you want.
"I just couldn't win a hole in the final but kept being patient and scoring par until Chris made a mistake, which is the way I've played the whole tournament.
"I've played steady golf on three courses which were new to me this week and I couldn't be happier with how I've performed.
"It's been six years since I won but I'm sure it felt no better than this. It's a fantastic event and the lads from Blacktax put on a great show."
Runner-up Nay, 32, added: "I'm really happy with how well I played on a course I hadn't played before. That must be my record for pars in a round (11 of the first 13), and a birdie as well. I hit it straight and putted well but Chris is a phenomenal player.
"The courses got better every day and I've had a fantastic time. What a great trip. I'll be trying again next year and I'd encourage any golfer on the Fylde coast to enter."
The first five holes set the tone for a spellbinding contest, all halved in par. After some excellent approach play, Nay had birdie chances on three of them and Boyes on two, and it was astonishing that none of those putts dropped.
The sixth was the first of two holes on which eight-handicapper Nay received a shot and he played a fine iron off the tee knowing a solid four should give him the lead. However, three putts forced him to settle for nett par, which Boyes matched after one of many well-executed chips to three feet.
Nay needn't have worried about that missed opportunity as he won the par-three seventh with a bogey, the first shots either player had dropped, Boyes encountering problems after an overhit drive.
Seven more shared holes followed, littered with excellent long putts to leave the ball dead for par.
Boyes was so close with a 10-foot birdie putt on eight and left a chip inches away on 11, where Nay saved par with a 12-footer.
The 12th was the only other hole Boyes bogeyed, missing from four feet, but Nay couldn't better this and needed his powers of recovery after hitting through the green and down a slope.
The 13th could have been a turning point as Nay's drive veered way right and was lost, though he was granted a free drop under the ground-under-repair rule.
This was a sporting agreement by Boyes, especially as this was the other hole on which Nay received a shot.
Boyes made light of the course's most difficult test with a solid par, which Nay needed his extra shot to equal after missing a nett birdie putt from eight feet.
The quality went up another notch on the par-five 14th, which produced both of the final's birdies. After two fine drives had stopped barely 10 feet apart, Boyes drilled a 40-foot eagle putt within two feet of the hole and Nay matched him following a classy chip to three feet.
With the toe-to-toe challengers so evenly matched, the idea that Boyes would overturn his deficit and have the match won in the space of three holes seemed improbable.
But that's what happened, as the champion himself said: "When I finally won one at 15, I said to myself, 'This is it'!" Indeed it was as the three-time winner never looked back.
His excellent long birdie putts on 15 and 16 finished inches away and his opponent couldn't make tricky par putts under pressure to save.
Boyes sensed his chance to end the match a hole early with more accurate play to the short 17th, driving on to the green and steering a long putt to two feet.
Nay drove into sand, and when his bogey putt struck the back of the hole but refused to drop he took his cue to concede.
There's plenty of great golf to reflect on as the four players look forward to a final day of leisure and luxury on the Algarve with perfect hosts and tournament organisers Ian Wharmby and Ian Hodgin of Blacktax.